If you have completed a PAT testing training course with PASS ltd - either via our accredited PAT testing training USB/exam or via our nationwide PAT training courses - you are eligible to receive a certified PAT tester badge.
This badge is designed to be displayed on your company website and showcases that you are a fully certified company/individual who can carry out PAT testing.
Many customers want visual proof that the company they are using is deemed competent to carry out PAT testing work and this badge will help build customer confidence in your ability to carry out PAT testing work professionally, safely and efficiently. Something as simple as this badge could be the difference between converting an interested customer into an actual customer, so we recommend displaying the badge prominently on your page for the best effect.
The badge is completely free to anyone who has completed any of the training courses offered by PAT-testing-course.com. To get the badge onto your site all you need to do is copy the code from the box below and paste it into the HTML code of your website. If you employ a design agency or have an in-house developer to design your website they should be able to help you carry out this process quickly and easily. We recommend using someone who knows what they are doing as adjusting the HTML of your website can be a tricky process.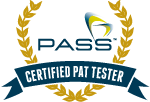 This is how the certified badge will appear on your website once it has been copied into your HTML code.
The badge is designed to work on any coloured background and does not need to be displayed on a white background in order to be seen.

Here's an extra bonus as well! As a thank you for displaying our badge on your website we'll give you 50% off any additional PAT testing exams you purchase to go along with completed USB courses. Simply enter the code DVDEXAM50 at the checkout and the price of any additional exams will be halved.
This offer is only available if the badge is displayed on your website.